Luxury Caribbean Catamaran Charters
Catamaran luxury yachts are an amazing way to vacation in the Caribbean and tour the absolute beauty of the US Virgin Islands (USVI) and British Virgin Islands (BVI) like never before. Not only are catamaran yachts spacious, but they're also exceptional at maintaining a steadier feel for those who may be prone to seasickness.
Here at Caribbean Soul Charters, we offer bespoke, luxury crewed yacht charter booking on catamaran sailboats guaranteed to fulfill your family's dream yachting vacation on the Caribbean sea.
If you're looking for a luxury catamaran sailboat, our concierge yacht charter service will ensure your desires in a Caribbean yacht vacation are met with perfection.
Please select up to five of the below luxury catamarans and email us with your selection and we will do the rest from there.
If you would like to discuss your trip in greater detail so we can customize the ideal trip for you and your loved ones on the best yachts the Caribbean offers, please call +1 (340) 690-1121 or Toll-Free at +1 (877) 432-6700 and let's get started. Be sure to ask for Sue!


CREW PROFILES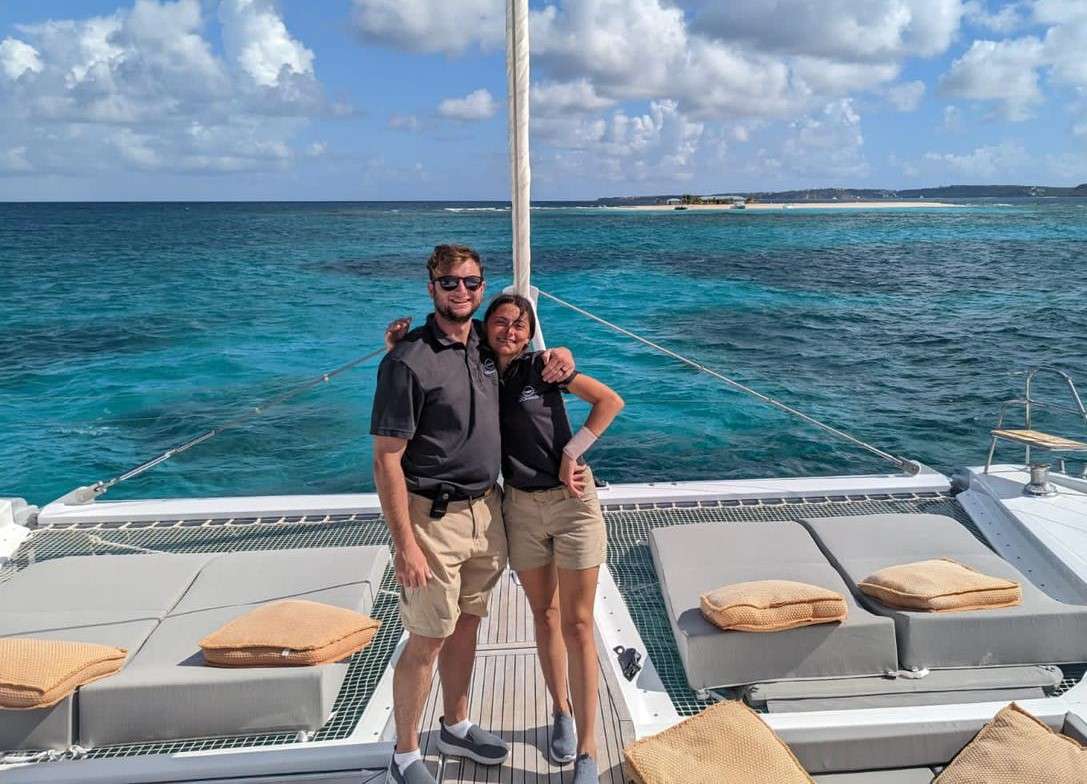 Title
Name
Nation
Born
Licenses
Captain
Jake
0
USCG 100 TON
Chef/First Mate
Kiley
0
STCW
Number of Crew: 2
Languages: English
Crew Profiles:
Meet the Crew:

Season 2022/23: Captain Jake and Chef Kylie

Qualifications: USCG 100 GT, STCW

Jake: Your Skipper, Captain Jake, was brought up in North Carolina. Going to school in Charlotte, North Carolina, to study business along with EMS. After his years of studying, he spent his time as a professional Raft Guide and Rock-Climbing Instructor. Jake's love for the ocean propelled him to drop everything and move back to the coast in 2014. Jake started out as a member of crew maintaining yachts, above and below the water. Jake started working day charters like parasailing, scuba diving, and sunset sailing in Miami. Not too long after this, Jake was approached to become the first mate of a mega yacht, which resulted in him sailing around the Great Lakes, the East Coast of North America, The Bahamas, Exuma, and Puerto Rico before settling in the Caribbean.

Jakes loves exploring the warm, Caribbean waters. His best part of the day is taking guests to his favorite snorkel/dive spots and sharing his knowledge and appreciation of the magnificent underwater world, which is unique to the Caribbean. Jake's main wish is to instil his guests with an overwhelming passion for the ocean and leave with a smile.

Kylie: Your Chef / first mate, Kylie, was born in Johannesburg, South Africa. After high school, Kylie moved to Cape Town, attended UCT and achieved her degree in Fine Arts. After studying, Kylie decided to take a "gap" year as a video producer with a leading cruise line company.
Kylie realised that her passion was for the service industry and making genuine connections with people. So, she decided to stay a few years longer, visiting over seventy countries across the world. As a result, Kylie experienced different culinary encounters, further developing her love for creating food.

Coupled with her enduring love for the ocean, its natural magnificence and mystery, it was only natural that she would pursue her dream of working in the marine industry. Kylie's love for illustrating and art, led her to realise that cooking and art were the same. After craving a more personalised experience with guests, she went off to join the mega yachts, thereby allowing her to indulge in her passion for food.

Chef Kylie draws on all her travels and love for healthy food to create simple, delicious food, with bold, sometimes exotic, flavour combinations. When Kylie is not in the galley, she loves Yoga, Scuba Diving, fishing, and films. Kylie goes above and beyond, as she strives to make each charter an unforgettable experience, both in the ocean and on the palate.

Kylie and Jake:

Jake and Kylie met on the dock on her very first day of super yachting, and they never looked back! From two separate parts of the world, they found each other in a whirlwind of adventure.

They both have a passion for Sailing, after leaving the superyacht industry, they sailed around Puerto Rico and moved to USVI to follow their dream of adventure.

**Jake and Kylie are both fully vaccinated**

Jake and Kylie cannot wait to meet you, the adventure awaits!